Lotto Tutorial
(how to play Lotto)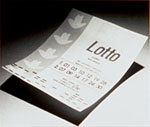 The Object of the Game
To correctly guess a combination of numbers or symbols that are afterwards randomly drawn by any governing agency. Each governing agency selects the total amount of numbers to be used in its various games.

How the Game is Played
1.) You buy a lotto ticket.
2.) You mark numbers or symbols on the ticket. (Six out of 49 or similar)
3.) If the numbers you picked match the numbers that are drawn - in any order - you are a winner.

Types of Games
Super lottery jackpot
The big jackpot games often go by the name of Lotto, Super Lotto, Powerball, or National Lottery. This is the type of game that produces the "instant" millionaires. This game is normally played once a week, but in some countries you will find it played twice a week. It is a very low cost game normally costing little more than $1 depending on where you live. If no one wins the big jackpot it normally rolls over to the next drawing and the prize total increases in value.
Daily lottery games
Some countries also have daily lottery games with prizes considerably lower than the big lottery jackpots. Some examples are Pick-3, Daily-4 or Fantasy-5 in the US, or Finland's Lotto or Spain's Bono Loto, which has four draws a week. In many of these games you only need to pick three, four, or five numbers to win. The odds are greatly reduced.
Scratch-off games
Many countries have scratch off games that are paid off on the spot. These instant games are launched regularly covering a variety of themes, designs, and play styles. To play these games you simply purchase a ticket at your supermarket or newsagent, scratch off the coating on the ticket and match the required symbols or numbers. You are normally paid on the spot if you win. If the winning ticket is over a designated amount, you might have to present or post the ticket to the lottery headquarters to collect your prize.