Lotto Statistics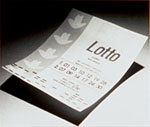 Lotteries Enjoy Widespread Legalization. Lotteries are legal now in 37 states and the District of Columbia. Lotteries have spread rapidly across the country, in a way that is consistent with the domino theory of gaming regulation discussed in the introductory section. Simply put, a given state is more likely to have a lottery, if the neighboring state has a lottery. The first states with lotteries were all in the northeast. Then lotteries spread across the country. The only region in the United States where they are generally not legal is in Alaska, and Hawaii, and the southern states.
Lotteries, along with their close derivative bingo, are the most popular kinds of gambling. The popularity of lottery games is not limited to state_run lotteries. Indian tribes run lotteries and illegal lotteries still exist.
Lotteries are also legal around the world. The 1995 worldwide sales for legal lotteries were $95 billion. The United States leads with sales of approximately $28.7 billion. Germany is a distant second at $9.2 billion in sales. In all these places, lotteries are basically the same game with only minor differences that reflect the particular national culture.
Looking at some specific industry statistics, we can see that lotteries are well-established in this country and within California, although for the size of the state, California does not have a particularly large lottery. Although the chart shows California as one of the biggest lottery's state, the table at the bottom shows Californians spent less on the lottery than many other states.
Per Capita Lottery Sales - 1995

Massachusetts

1

$462

Washington, DC

2

$404

Maryland

3

$208

California

33

$69

Montana

37

$38

Source: La Fleur's 1996 World Gambling Abstract.

Despite Success, Opposition Exists. The resurgence of lotteries has not been universally welcomed. An argument used in opposing lotteries is that they symbolize the boredom and materialism of modern life. Another argument against lotteries is that legal gambling leads to illegal gambling. Lottery critics see legalized state_sponsored gambling destroying ethical values by promoting the ethics of easy money over hard work. Critics point to the ads of employees being disrespectful to their bosses after winning the lottery.
Another argument that is marshaled against lotteries is that they prey on the poor, the ignorant, and compulsive gamblers. The poor may be induced to spend money on lottery rather than basic necessities leaving local and state government picking up the tab through varied service programs. State lotteries are also a monopoly and some question exists whether that is proper. Another argument is that if the purpose is to make money for schools or some other worthy purpose, why shouldn't the state earn money through opening other businesses such as restaurants or brothels?
In sharp contrast, supporters call lotteries a painless tax, even a high-minded tax. Money is raised for good causes through people having fun. Lotteries are to be celebrated because they restore consumer sovereignty, allowing people to spend money on what they choose. The argument goes on to state that gambling is prevalent whether it is legal or illegal, so why not allow people to do it legally. To prevent people from gambling is a form of paternalism and is elitist. There is no harm save for the compulsive gambler or in the crooked game, which all state lotteries go to great pains to avoid.
Two stories by modern American writers indicate the ambivalent feelings aroused by the lottery.
"Once you could send your innocent babes, hope of the future, off to the candy store to buy some chewing wax, a Baby Ruth, the new Batman comic book and a kazoo, and be secure in the knowledge that good Mrs. Chesley behind the counter would bust their little knuckles if they tried to buy a copy of The Racing Form. Not anymore. Now good Mrs. Chesley has turned her shop into a gambling hell where she greets the traffic with a leer that says, "Hello sucker" and has to keep kicking the kids out of her way so the lottery players can get their bets down."
But there is another view. A supporter noted:
"Editorial and other criticism of legal gambling smacks of nannying ordinary working and retired folks: we the affluent, who would not dream of playing numbers whether legal or illegal, long shots on the races or for jackpots at slot machines, don't want you, the unwashed, to enjoy your simple pleasures."
There are objections to lotteries that go beyond the arguments just presented. Some critics are concerned that state_sponsored lotteries are not just supplying a good, but trying to foster a taste for it. In legalizing a lottery, the state is yielding to consumer preference and the argument that a little gambling does not hurt anybody. But the question remains, does the business_like behavior where sales of lottery tickets are actively encouraged through state sponsorship and huge amounts of advertising reflect the public interest?
Why have lotteries grown? There are several trends that receive credit for expanding lottery business.
Tickets have become cheaper, especially when adjusted for inflation.
Number of retail outlets has increased.
Size of grand prizes has grown.
More consumer participation is allowed in the betting: for example consumers can choose their own numbers.
Frequency of drawings has increased, in part because there are more types of games.
The payout rate has increased, although compared to colonial times it has decreased.

State Lotteries Have Two Important Attributes. One of these is a significant marketing and advertising campaign and the other is that the lottery is a monopoly run by state government and not by a private firm.
Lotteries are run by state government for two major reasons. One is to reduce fraud and the other is to raise money for a worthy cause. Some states deposit the proceeds into the general fund while others earmark the money for special purposes. Some interesting purposes include a gamblers aid fund in Iowa and the University of Illinois Athletic Association in Illinois. The state statutes generally call for the lottery commission to maximize profits, although some restrictions may be adopted. Because of the statutory direction to maximize profits, lotteries are run like businesses and are more like a private sector entity than a state agency. An unusual case was Missouri, where the law prohibited advertising that would induce a person to participate. Since the effect of this prohibition was to eliminate all of the advertising normally done by a state lottery, the law has since been changed.

Critics Argue That Much of the Advertising is Misleading. For example, lotteries, including California, routinely advertise multimillion dollar prizes. The real value of these prizes is actually about one-half as large because they are paid out over many years. Critics charge that this is misleading advertising and the present value of the prizes should be noted in the advertisements. New York Governor Pataki has directed the lottery to advertise in a more honest way. Gone are the pictures of the new millionaire beside his pool. Now a woman from Yonkers is shown spending her $10,000 ($6,400 after taxes) on a variety of home appliances.

Modern Lotteries Have Been Essentially Free of Scandals. Early lotteries were plagued by corruption and scandals. To protect the integrity of the games, lotteries have adopted many safeguards to protect against corruption and fraud. The lottery industry has experienced very few scandals in the more than 30 years of state_administered lotteries in North America. The integrity of the lottery is one of the appeals of lottery gaming.
There have been some instances of fraud in modern lotteries, although the incidents pale in comparison to the experiences of the 18th and 19th century American lotteries. In 1982, there was a scandal in the Pennsylvania lottery. In a drawing where balls were used to determine the winning number, some of the balls were injected with fluid to make them heavier. Because they were heavier they would be chosen in the mechanized selection procedure. The perpetrators included the TV announcer and were quickly discovered. Another significant lottery scandal also occurred in Pennsylvania when a computer vendor printed a ticket with the winning numbers. Again the perpetrator was quickly discovered. In a slightly different kind of case, New York closed down its lottery for a period after the agency announced winning tickets that the lottery officials knew had not been sold.

States Have Been Very Effective at Stimulating Demand. As noted, New Hampshire started with a couple of drawings a year. The results were not spectacular. As more states legalized lotteries, the states have become very effective at innovating and creating new games. One of the first innovations was to increase the frequency of drawing and the size of the prizes. Another new product was the instant tickets, termed "scratchers." Then lotteries started daily drawings which are modeled after the illegal numbers game. One of the biggest booms to lotteries was the introduction of Lotto. Lotto is a game where winners are determined by matching the player's number with numbers that are drawn. If the winning numbers are not held by a player the prize rolls over and grows. The rolling over of the prize is crucial to a modern lottery's success, because it creates a large jackpot which has a significant effect in stimulating sales.

Lottery Players are Widespread. Lotteries are the most popular and broadly played form of gambling despite having the lowest payout. A large proportion, about 50 to 60 percent of adult Americans play legal lotteries in lottery states. Two-thirds of these play regularly, which means that about one-third of the adults are regular players. Heavy players are about 10 percent of all lottery players. The poor, minority, Catholic, undereducated, and middle_aged are all more likely to play. Two of the first 11 big winners in California were illegal immigrants.
There is substantial evidence that youths play the lottery, although they are forbidden by law. Studies have found large number of high schools kids playing lottery games. Some of these individuals have characteristics of pathological gamblers.
The total number of all lottery players is probably greater then reflected in statistics because illegal lotteries still exist. They can exist because their payout ratio is much higher. State lotteries are a very unattractive gambling proposition as they return a relatively small amount of the money as prizes.

The Typical Individual Spends $100 Annually. This amount exceeds the amount spent directly on prescription drugs and reading materials. Also, a small number of poor families spend a very large sum on lotteries. In general, the amount spent on lotteries per person does not vary as much as the percent of income spent. That is because higher income people spend proportionally much less on the lottery.
Research has shown that a relatively small minority of customers provide a large share of revenues. A study based on California data showed that, typically about two-thirds of the take is provide by about 10 percent of the customers.
Lotteries have come to be seen as "implicit taxes" by researchers. That means that they are not, of course, taxes because no one is obligated to pay them. But lotteries are similar to taxes because they raise money for public purposes. Some critics would argue that lotteries are not wholly voluntary because of the coercive nature of the advertising and the fact that people buy them on impulse. The counter argument is that it is in fact a voluntary purchase. Even if purchased on impulse, so are candy bars and lottery tickets do not cost much more.

Lotteries Raise a Disproportionate Share of Money From Low-Income Groups. Almost every study conducted by economists and researchers has found lotteries to be regressive form of raising money. Regressive means that as income rises, the proportion of money spent on a given product, lotteries in this case, declines. The regressivity of a lottery is heightened because of how the money is spent. The proceeds tend to go for programs that benefit the population as a whole, namely education. The regressivity could be diminished if lottery proceeds went for programs that aided lower income groups exclusively.
In other states there has been criticism that lotteries have targeted low-income people. The lottery in Illinois rented billboards in Chicago's most blighted neighborhoods with the slogan "This Could Be Your Ticket Out." After receiving significant criticism, the ad campaign was dropped.

Why do People Play the Lottery? The main reasons are availability, no skill is required to play, players have little or no fear of corruption, and gamblers can wager small amounts. People play despite the low payout compared to other forms of gambling. However, playing the lottery is a cheap way to have an opportunity of winning big dollars and become a celebrity. If you win a big lottery prize you are put in the newspapers. The celebrity status of winners may be an important aspect in encouraging play.
The odds of success in lotteries do not seem that important to players. When interviewed, consumers do not seem to know the odds or the payout rate. Researchers have found that once people believe that a low probability event can occur, they tend to overestimate the chances of it occurring. And a small number of people do win and win large amounts of money, although the overwhelming majority lose money.
Lotteries give an illusion of control to some players. Because you can pick your own numbers in some games, you can choose your own lucky number. Tabloids feature articles about how to improve odds at picking lottery numbers, obviously a forlorn hope because the winning numbers are a product of a random process. Another attraction of the lottery is that people enjoy the non-monetary aspects of it, including talking about playing, engaging in the ritual weekly purchase, socializing with friends and coworkers to pool to buy tickets, and dreaming about winning, perhaps the favorite activity among lottery players.
According to some research, lotteries recruit people into commercial gaming, especially in states that have had little legalized gaming or exposure to such activity. This finding is interesting because lotteries have been opposed by commercial gaming interests. Another view is that lotteries have sanitized gaming and popularized it.
Gambling can be an addiction for some gamblers and the resulting costs from these compulsive gamblers is quite significant as discussed in Chapter IX. It is unclear what role lotteries are having on the compulsive gambler.

Illegal Gambling Isn't Eliminated by Lotteries. One justification that has been used to win approval of lotteries is that they will undercut the illegal numbers game. Nevertheless, illegal numbers still persist, although they are probably smaller. Numbers persist because its convenient, flexible, offers credit, and if you owe the government for taxes or welfare, it may be a better place to bet your money. And the payout is much larger than the approximately 50 percent of state_run lotteries. Although the size of numbers is not known, researchers note that estimates put drugs as a far bigger source of funds to criminal interests.

Economic Impact of Lotteries is Unclear. The lotteries help retailers that sell lottery tickets, especially the small ones. But of course by removing money from expenditure on other goods and services it can have a harmful impact on other retailers, but that has not been quantified.
Some research on the California lottery shows that it has a pronounced impact on rural areas. The lottery raises money throughout the state, but proceeds and purchases of inputs do not benefit the state equally. An economist estimated that the lottery may take $711 million out of rural California, in other words, it is an "anti_rural development program."

There are New Directions for Lotteries. State lottery commissions are intrigued by several new directions. These include video lottery terminals and betting at home through touch_tone phones or cable television. Another is sports betting. Sports betting may be the most popular type of betting, although much of it is illegal. Four states have used sports betting in the lotteries, but Congress acted to outlaw it at the behest of professional athletic organizations. There was a widespread concern that any legalized sports betting could make the athlete more concerned with the bet than the game.
State lotteries have not been involved in casino gaming. A different situation exists in Manitoba, Canada, where the lottery operates a casino.
Lotteries have gone to quickdraw keno and it has become quite popular. Monitors are placed in bars and restaurants and drawings are held on a very frequent basis, approximately every five minutes. Critics argue that it exposes young people to casino_type gaming. California earned more than any state on quickdraw keno. The state's earnings plummeted sharply after the California Supreme Court ruled that the lottery's keno game was not a lottery game as authorized by the constitution and was illegal because it was a banked game. Lottery games are played against other players and not against the house, in this case the California Lottery. California law prohibits all banked games, that is those games where the house has a stake in the outcome.
As will be discussed further in the Indian Gaming section, the Coeur D'Alene Indian tribe in Idaho is proposing a national lottery. That lottery would be available in all states that have a lottery, including California. Such a lottery would allow someone to use a credit card to purchase a ticket over the phone. The person would be able to buy on credit and would not have to leave his own home. Another advantage is that the lottery does not have to earmark money for a purpose, such as the California lottery. Some lottery analyzts say this could be a large advantage. The tribe is, however, proposing to share the revenues with other Indian tribes and states. Whether this will drive their payout to a higher or lower level than the state's is not clear.
There is a strong link between the lotteries and Indian gaming. The Indian tribes are allowed to operate whatever type of gambling that is not prohibited to everyone within a state. The games used by the lottery are often used to pave the way for expanded Indian gaming in states that do not otherwise allow casino gaming.

Lotteries May Not Stay Public. Governor Rowland of Connecticut has proposed selling a portion of the state lottery to private investors to raise money for the state. It would not have a significant impact on the operation because only a minority, about 6 percent of the state lottery, would be sold.
Start-up Year

State

Authorization

Approval Rate

1964

New Hampshire

Legislation

1967

New York

Referendum

61%

1970

New Jersey

Referendum

82%

1972

Pennsylvania

Legislation

1972

Connecticut

Legislation

1972

Massachusetts

Legislation

1972

Michigan

Referendum

67%

1973

Maryland

Referendum

80%

1974

Ohio

Legislation

1974

Rhode Island

Referendum

1974

Illinois

Legislation

1974

Maine

Referendum

61%

1975

Delaware

Legislation

1978

Vermont

Referendum

66%

1981

Arizona

Initiative

51%

1982

Washington

Legislation

1982

Washington DC

Initiative

66%

1983

Colorado

Initiative

60%

1985

Oregon

Initiative

66%

1985

California

Initiative

58%

1985

Iowa

Legislation

1986

West Virginia

Referendum

67%

1986

Missouri

Referendum

70%

1987

South Dakota

Referendum

60%

Kansas

Referendum

64%

Montana

Referendum

70%

1988

Virginia

Referendum

57%

Wisconsin

Referendum

65%

Florida

Referendum

64%

1989

Idaho

Referendum

51%

Indiana

Referendum

62%

Kentucky

Referendum

60%

1990

Minnesota

Referendum

57%

1991

Louisiana

Referendum

65%

1992

Texas

Referendum

65%

1992

Nebraska

Referendum

63%

1993

Georgia

Referendum

52%

1994

New Mexico

Referendum

54%